THE WORLD SHRINE (Motosu Hikari Ōkamu no Miya)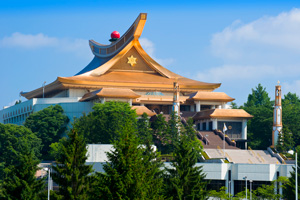 The shrine for the Creator
The construction of the shrine, Motosu Hikari Ōkamu no Miya (also referred to as Suza) was completed in 1984, under the guidance of the second oshienushi, Keishu Okada, who succeeded to the missions of the founder, Kōtama Okada, including his mission to build Suza. Suza is a holy place of contact between the Creator and human beings and a base for bringing the Light to the world. Everyone is welcome to visit the shrine, regardless of their religious beliefs, faith, ethnicity, or nationality.
■HOURS: 9:30 AM – 4:00 PM
*The World Shrine is closed to the public on days when there are private events. Please call in advance to confirm opening hours.

ADDRESS: 2-596-1 Kamiokamoto-machi, Takayama City, Gifu Prefecture, Japan.

CONTACT: Sukyo Mahikari Headquarters  TEL (81) 577-34-7008

HIKARU MUSEUM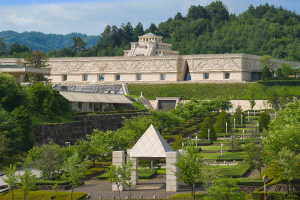 A dynamic museum exhibiting the virtues of the founder
Hikaru Museum was opened in 1999 based on the noble tenet proclaimed by the founder, "The origin of the earth is one, the origin of the universe is one, the origin of humankind is one, and the origin of all religions is one." The museum aims to protect and promote local culture as well as foster international exchange and understanding of ancient civilizations. The museum widely showcases exhibitions of historical records and works of art. The museum's design incorporates parks and green spaces to harmonize with its natural surrounding landscape.

■HOURS: 10:00 AM – 5:00 PM (4:00 PM last admission)
*Closed every Wednesday except during public holidays. Closed during the winter (December to February).
ADDRESS: 175 Nakayama-machi, Takayama City, Gifu Prefecture, Japan.
CONTACT: http://h-am.jp TEL (81) 577-33-5881
SUKYO MAHIKARI YOUTH CENTER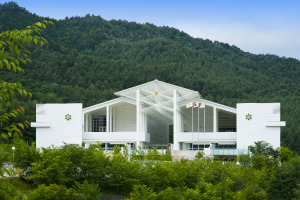 Nurturing leaders for the future
The founder, Kōtama Okada, invested especial effort and care into youth education in order to nurture young leaders for the future. As a manifestation of the founder's will, in 2002, the Youth Center was established as a training facility to nurture the youth. With the aim of nurturing spiritual leaders for the future, Mahikari Youth Group members and young people gather at the Youth Center from across the world to participate in training of their spirit.